Your home's exterior surfaces, including the siding walls, gutter faces, composite decks, and roofs, are an essential investment that requires proper maintenance to avoid costly repairs or replacements. At Oz Wash, we offer soft washing services that keep your property looking new for years to come.
But what exactly is soft washing? It is a low-pressure cleaning method used to remove dirt, grime, mildew, and other contaminants from the exterior surfaces of a house. Our professional technicians follow a specific process to ensure the soft washing is done correctly and safely.
Firstly, we apply a specialized cleaning solution to the house's exterior surfaces using low pressure. The solution is left to sit for a few minutes to allow it to penetrate the surface and break down any contaminants. Next, we rinse the house using low-pressure water to remove the dirt, grime, and other contaminants. Lastly, our team does a post-inspection to ensure that all areas have been cleaned thoroughly.
It is important to note that soft washing is a safe and effective method of cleaning the exterior surfaces of a house without causing damage to the structure. Hiring a professional soft washing company like Oz Wash is vital to ensure that the process is done correctly and safely without causing any harm to your property.
By choosing Oz Wash, you can trust that we will take great care of your investment and leave your home looking clean and new. Contact us today to schedule your soft washing appointment.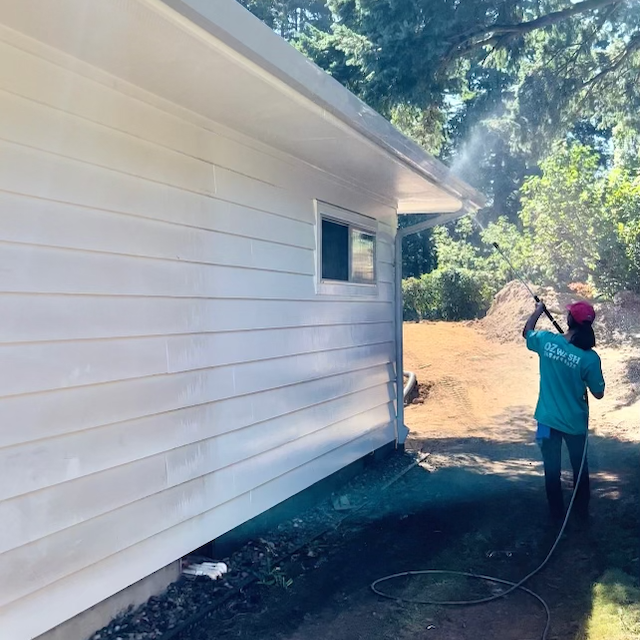 Soft Wash
A low-pressure cleaning method that effectively removes mildew, dirt, and algae, providing a non-damaging and eco-friendly way to clean your home's exterior.
Our pricing for services is not a one-size-fits-all approach, and it's customized to meet your home's unique needs. Depending on the amount of growth on your roof or siding, the level of difficulty of the job, and the square footage that we need to spray all factor into the cost.
At Oz Wash, we believe in providing exceptional customer service and ensuring your complete satisfaction. That's why we offer a complimentary personal consultation, where we will come to your home and discuss your specific requirements. We take the time to listen to your needs and concerns to provide you with the best possible solution.
Our team of professionals treats your home with the utmost care as if it were our own. We understand the value of your investment and want to ensure you have complete peace of mind. Contact us today to schedule your complimentary consultation and see how we can make your roof or siding look new again.
Ready to book?
To receive an accurate quote, please call us or submit a quote request. Our team will take care of the rest and promptly provide you with an estimated quote that meets your needs.

Don't hesitate to get in touch - we're here to help!